Campaigning for Companion Animal De-sexing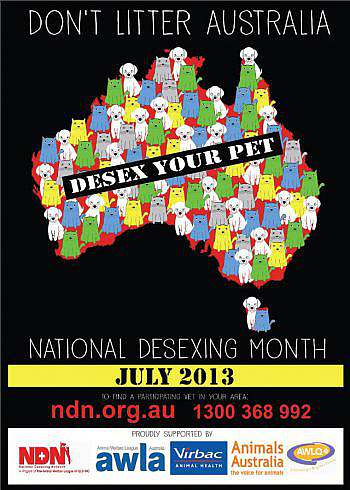 The National Desexing Network in conjunction with vet clinics around Australia, offers discounted desexing prices to encourage pet owners to desex their cats and dogs.
It's a fact that desexed pets generally become better companions and live longer, healthier lives. With desexed animals there is a reduced risk of getting cancer or other diseases of the reproductive organs. Dogs and cats who have had the snip are less likely to suffer from anti-social behaviours which means their human companions have an easier time of it too.
Pet owners now have even more incentives to desex their pets. National Desexing Month is held in July each year and offers all pet owners discounts on the cost of this surgery for dogs and cats and it's not only the owners who benefit. So do all the cats and dogs who would otherwise be brought into a world where there are simply not enough caring homes for them.
Prices and veterinary clinics can be viewed on the NDN website
www.ndn.org.au